Richardson Manufacturing Company (RMC)
is your first choice for quality precision CNC machining of mid to large sized components.
For nearly 7 decades, Richardson Manufacturing Company has gained the experience and knowledge needed to achieve the goal of total quality and reliable service. The Company is wholly committed to continuous improvement while providing the best possible products and services to its customers at all levels within its organization. Our repeated success of completing numerous jobs for world-wide leaders since our beginning is a testament to our achievement in the large machining industry. Richardson Manufacturing Company has a solid and well-deserved reputation for being a reliable source for high precision tight tolerance machining with exceptional quality for any type of part, large or small.
RMC Quality Statement
Richardson Manufacturing Company is committed to meeting customer requirements and increasing customer satisfaction through continuous improvement of its products, services, and the Quality Management System.
Our History
As Richardson Manufacturing Company (RMC) approaches its 70th year, its capabilities and commitment to manufacturing have grown with the times. Flexibility within a highly skilled and motivated workforce and state of the art manufacturing techniques have been the cornerstone of meeting the demands of the industry. Currently Richardson Manufacturing Company's triad of services falls under three distinct categories: large component CNC machining, gear and spline cutting, and high precision prototype and tool room machining. Richardson Manufacturing Company has always been a family owned enterprise. Four generations strong, the company officially started in the early 1930's as the Richardson Dairy. The dairy was located on the same location that the plant now occupies. It was decided in 1946 to transition from the production side of the dairy business to a manufacturer of dairy equipment which included pasteurizers, milk coolers, and chest- type freezers. It was at that point that the RMC story began.
Founded by Lloyd Richardson and his sons W.L. Richardson Sr. and L.F. Richardson Jr. in 1946, RMC added general machining to its capabilities as it grew its reputation in the dairy and refrigeration business. Soon thereafter, RMC became a subcontract source for machined and flame cut parts for Allis Chalmers and other various heavy construction equipment manufacturers in the local area.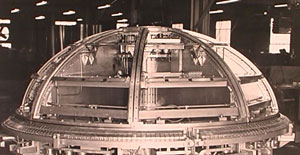 In the early 1950's, the Korean War brought about a major copper shortage which caused RMC to suspend all refrigeration manufacturing and focus on building a high precision subcontract machining business. During the Cold War era of the 50's, RMC supplied precision machining and fabrication services for many defense and research programs which included the B47 Bomber for Boeing Aircraft, the Titan Missile for Glenn L. Martin Co., as well as work on components for the first inertial guidance system and nuclear cyclotron acceleration chambers for the University of Illinois and the University of Colorado. RMC has always maintained a high precision tool room job shop to support such activities and is now marketed as "Richardson Specialty Machining."
Throughout the 1960's and 70's, RMC's expansion was focused around the needs of the growing construction equipment industry. During this time period, RMC increased its capability to include progressively larger vertical turning. Our customer base expanded to include Firestone Tire and Rubber to support the tire industry for mold repair and construction, as well as Remington Arms and Olin Corp. for highly specialized EDM die work for the ammunition industry. Construction equipment machining also increased when Caterpillar became a major customer for RMC.
In 1979 RMC entered the "new" era of CNC manufacturing. Recognizing the fact that utilization of this new technology was necessary to be competitive in this market, RMC first introduced CNC lathes, CNC machining centers, and coordinate measuring machines (CMM) to its facility to meet customer needs in quality and productivity. However, even with the advent of these new technologies, RMC has always attributed its success, in the past and present, to its highly-skilled, motivated, and dedicated personnel. In conjunction with this, RMC has always invested heavily in continuous training and systems to put our workforce at the forefront of the competition.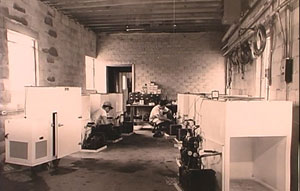 The 1990's brought RMC's next opportunity for a major shift in both size and scope of the parts being manufactured. With the rapid growth of the mining industry and the birth of the mega-class mining trucks and support equipment, RMC was a major player in both the prototype and final production phases of many of these vehicles. RMC was intimately involved in the pre and post production of many of Caterpillar's large vehicles including but not limited to the 994 Wheel Loader, 24H Motor Grader, 5230 Hydraulic Excavator, as well as the world's largest mining truck: the 400 Ton 797.
During this time, RMC grew to be a world-class supplier for many of the lower powertrain components for these large vehicles. This includes not only the final milling and turning operations of these parts, but also the internal and external splining requirements -- all performed under one roof.
As the new millennium passed, RMC's reputation continued to grow for producing large quality powertrain components for the mining and construction industry. RMC was fortunate to add Komatsu to their customer list in supplying fully machined axles, wet brake parts, spindles, and other powertrain components. With that addition, RMC has supplied lower powertrain components for over 85% of the mega-class mining trucks produced in the world today.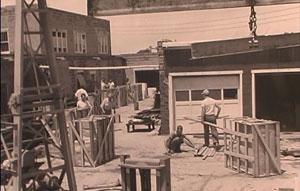 As component designs developed in the 2000's, many started utilizing splines in replacement of other matingpart features. Because of that, RMC found a rise in the frequency of spline production. However, even though RMC had been a producer of splines for years up until this time, it wasn't until early 2009 a decision was made to expand into the large precision gear manufacturing business. This required an expansion in both CNC hobbing, shaping, and gashing capacity, as well as acquiring the necessary CMM gear checking equipment to certify gears to any gear standard including the AGMA2015, as has been required by newer customers. Along with that, an immense amount of training was pursued in order to gain the expertise and experience to confidently produce precision gears for their customers. With an eye on larger geared components to match these large power train components, RMC is well poised for the future as it becomes a member of the American Gear Manufacturers Association.
This triad of services: large component CNC machining, gear and spline cutting, and high precision prototype and tool room machining continues to be the foundation of our success. Expanding our customer base with these services is our ultimate goal. RMC is dedicated to providing quality machining and gear cutting services in a timely manner and at a fair price. Our past and future success is based on the following four-point philosophy:
QUALITY – SERVICE – DELIVERY – VALUE
Service to the customer is our only business!
In the words of John F. Welch, former CEO of General Electric Company, "The customer either rates us better or worse than someone else. It's not very scientific, but disastrous if you score low."